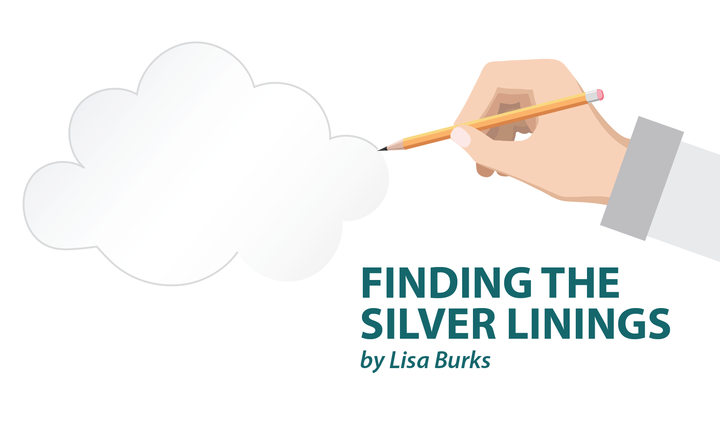 Editor's note: Lisa Burks describes her series: In the past month, I have written about Crohn's and colon surgery. Part 1 was about preparing for colon surgery, and in Part 2, I discussed the types of colon surgeries. To complete the series, I'm going to tell my story about having a hemicolectomy.
Why did I need one?
In June 2015, I developed a colon obstruction. While I was hospitalized with the obstruction, a colorectal surgeon came to see me. He explained it was imperative that I have surgery because of how diseased and damaged a large portion of my colon was and I was at a high risk for additional obstructions, infections, or worse. That was scary enough, but my GI doctor thought having the surgery would give me a better chance of achieving remission down the road. That alone was a big reason why I agreed to surgery.
My surgeon determined that laparoscopic surgery would be the best route in my case. Before I could have my surgery, however, I needed to start preparing for it. At the time, I was taking two medications that I needed to stop, Humira (adalimumab) and prednisone. Both of these medications can lower the body's healing process and ability to fight off infections. Ideally, I needed to be off Humira for at least four weeks. We also had to find a way to lower my dose of prednisone. Since I had been on the steroid for 11 years at that time, I was unable to stop taking it completely. Our goal was for me to get to the lowest dose possible.
Surgery time!
On July 31, 2015, I underwent a laparoscopic left hemicolectomy. My surgeon removed part of the transverse (top) and the entire left side (descending) portions of my colon, about 18 inches total. I was fortunate that my surgeon was able to save enough healthy colon to connect to the rectum. That way, an ostomy bag wouldn't be needed.
Before surgery, they tried to place an epidural so that when I woke up I wouldn't feel the pain, but it wasn't placed correctly and so was ineffective. I woke up in unimaginable pain, but the nurses were on top of it, trying to get me as comfortable as possible. The pain across my abdomen was intense! Definitely one of the worst pains I had ever felt. My surgeon ordered a pain pump, called a PCA pump. This is a button that you can push to deliver small amounts of pain medication through your IV line. I was able to push it every 15 minutes, as needed. I found this very helpful.
Post-op days
On day one, I was generally left alone. But on day two, my doctor started having me get out of bed. I won't lie, the pain was seriously intense. I have one very important tip for everyone after having this surgery: Bring a small pillow. After surgery, anything that causes you to use your abdomen muscles such as laughing, crying, sitting, standing, or walking will cause a lot of pain. Hugging a pillow on your abdomen helps ease the pain from moving your very sore muscles. So, hug that pillow! It helps take the edge off, lessening the pain.
Day three is typically the worst after surgeries, because the remaining anesthesia is out of your system and you're moving around more. They kept telling me that even though it didn't feel like it, things become much easier as time passes. And they were right. The more I got up, the easier it became. Once when I got up for the bathroom, I anxiously looked at my stomach. I had four one inch incisions and one five-inch incision at the belly button. Not bad!
By day five, the pain was somewhat better. I was getting around much more easily and I was walking laps around the hospital floor. I starting eating foods that are easy on the gut, like yogurt. Usually after colon surgery, people remain in the hospital about a week or until they are able to eat and your digestive tract "wakes up" again. I was in the hospital for eight days.
Since surgery
Before my surgery, I was in rough shape. I was frequently in and out of the bathroom, had constant stomach pain and nausea, and my diet was very limited. I could barely keep foods down. After surgery, the constant pain and bathroom issues I had been dealing with for so long were steadily decreasing. I started keeping meals down, too.
Having colon surgery was one of the best moves my doctor and I made. Although I still have problems with my Crohn's, it's a huge difference from how I felt before surgery. Even though I had the part of my colon removed where it was most diseased, it doesn't mean I won't need another surgery down the road. Many people with Crohn's will likely have numerous surgeries. In my case, I hope it won't be for a very long time.
***
Note: IBD News Today is strictly a news and information website about the disease. It does not provide medical advice, diagnosis, or treatment. This content is not intended to be a substitute for professional medical advice, diagnosis, or treatment. Always seek the advice of your physician or other qualified health provider with any questions you may have regarding a medical condition. Never disregard professional medical advice or delay in seeking it because of something you have read on this website. The opinions expressed in this column are not those of IBD News Today or its parent company, BioNews Services, and are intended to spark discussion about issues pertaining to IBD.