The 2015 €60,000 Paul Ehrlich and Ludwig Darmstaedter Prize for Young Researchers has been awarded to Professor Raja Atreya from Medical Clinic 1 of the Erlangen University Hospital who has developed a novel diagnostic device that indicates whether patients with Crohn's disease will benefit from treatment with a TNF antagonist or not.
Dr. Atreya was appointed W1 Assistant Professor at the institution at Erlangen, near Nuremberg in south-central Germany in 2010 and has headed the outpatient care unit for clinical studies since 2012. In 2013 he completed his examinations as a specialist in internal medicine, and is now a Senior Resident heading the hospital's Inflammatory Bowel Disease unit as well as outpatient care for the university and clinical trials.
Using Dr. Atreya's innovative diagnostic method, physicians can predict clinical response to an expensive treatment for Crohn's disease that has been associated with potential negative side effects including a possible increased risk of cancer, risk of infections and allergies and possible defensive reactions. This treatment addressing TNF antagonists is effective in only about 50 percent of patients, while the other 50 percent other patients experience the risks of side effects of the drug without accruing any clinical benefit from the therapy.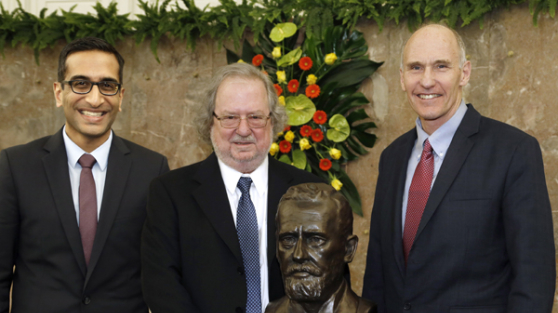 In awarding the Darmstaedter Prize to Dr. Anaya, the Scientific Council of the Paul Ehrlich Foundation acknowledges the potential that the researcher's novel diagnostic method represents for developing personalized medicine in Crohn's disease. The award w
as  presented by Nobel Prize laureate (Nobel Prize in Physiology or Medicine 2008) Professor Harald zur Hausen and Chairman of the Council of the Paul Ehrlich Foundation, in the historic Paulskirche at Frankfurt.
Crohn's disease is a highly debilitating, chronic-inflammatory bowel disorder characterized by constant diarrhea and abdominal cramps that make it difficult for a sufferer to live a normal life. The chronic inflammation of the intestinal mucous membrane mucus can also cause development of intestinal strictures, fistulas and scars. Many patients must undergo repeated surgery, and the suffering is considerable. Absenteeism in the workplace and limited employability also substantial socio-economic costs added.
Therapies targeting proinflammatory mediators in Crohn's disease have been available for years, with some involving TNF antagonists — therapeutic antibodies that neutralize the molecular messenger TNF, which has been implicated as a major factor in perpetuation of the disease.
TNF antagonists neutralize an important pro-inflammatory messenger, and treatment of Crohn's disease has been revolutionized by this drug class because it first addresses the causes of the disease and excess and morbid TNF, and withdraws it from circulation. Many patients find that TNF antagonist therapy allows them to lead almost normal lives. However, only half of the Crohn's patient cohort will benefit from the treatment, which can cost up to thirty thousand euros a year and also suppresses the immune system. Consequently, medical scientists have long sought a way to predict whether TNF antagonist therapy will be successful in individual patients. Prize-winner Raja Atreya has closed this gap with his research, guided by the deduction that only medicines that actually find their biochemical target ill be effective.
To help the process, Dr. Atreya developed a novel antibody spray coupled to a fluorescent dye that makes the target molecules necessary for TNF antagonist treatment's success visible via endoscopic imaging prior to therapy at sites of inflammation of the intestinal mucosa. The surgeon than scans a laser beam with a laser unit inset in the tip of the endoscope microscope which presents a much enlarged rendition of the situation. Via this imaging, the clinician can see if the luminous TNF antagonist has found its target molecule on the immune cells of the intestinal mucosa. Only if there are enough target molecules in the intestine, to which the antibody drug may actually dock, can it be assumed that the treatment will be effective.
"A drug that does not find its target, can not act," says Dr. Atreya in a Goethe University Frankfurt release. "The use of some cancer drugs is similar. Only when the points have been detected in the patient will the treatment commence. We apply this principle in Crohn's disease."
In a clinical trial with 25 Crohn's disease patients, Dr. Atreya was successful in demonstrating that patients presenting with a large number of target molecules for a TNF antagonist in their bowel mucosa respond better to the subsequent therapy than do patients harboring few of the target molecules.
The success of this approach was amplified by several other factors including fewer additional medicines having to be prescribed, healing of the intestinal mucosa within a year, and fewer patients requiring surgery for complications during the trial period. Patients in whom many immune cells were stained with the antibody in the intestinal mucosa spray fared significantly better on subsequent therapy than did patients with few stained immune cells. Patients with high staining responded 92 percent within the first twelve weeks. Of patients with low staining only it was 15 percent. The response to treatment was subject to various clinical variables. Patients with many stained immune cells had less cortisone in their intestinal mucosa healed better, and no one from this group underwent surgery within one year due to complications. Of the patients with few stained immune cells, four required surgery within a year.
"We show that the proof of mTNF on the immune cells of the intestinal mucosa is a good biomarker for treatment response in Crohn's disease" says Dr. Atreya.
Prof. Atreya his research colleagues now plan to test the new diagnostic in large-scale trials. The use of a new diagnostic is also bound to considerable legal requirements because it has to be recognized by the West German authorities as a new drug. Dr. Atreya and his colleagues have therefore conducted extensive studies on safety and the safety of the new antibody sprays before clinical trials.
The Paul Ehrlich and Ludwig Darmstaedter Prize for Young Researchers, awarded for the first time in 2006, is conferred once a year by the Paul Ehrlich Foundation on a young investigator working in Germany for his or her outstanding achievements in the field of biomedical research. The prize money must be used for research purposes. University faculty members and leading scientists at German research institutions are eligible for nomination. The selection of the prizewinner is made by the Scientific Council on a proposal by the eight-person selection committee.
Sources:
Die Goethe-Universität Frankfurt am Main
Erlangen University Hospital
Paul Ehrlich Foundation
Image Credits:
Die Goethe-Universität Frankfurt am Main
Erlangen University Hospital
Paul Ehrlich Foundation