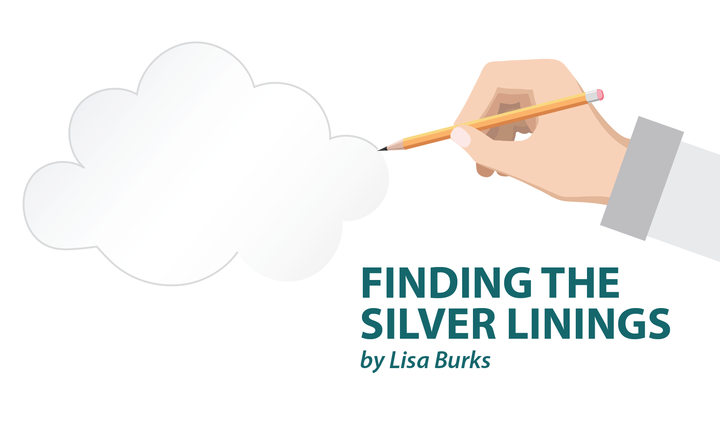 We all know medical ribbons. There are dozens of colors representing medical conditions: Pink for breast cancer, red for heart disease, green for cerebral palsy, purple for Crohn's. There actually are dozens of medical conditions represented by each color. These bring awareness and education to the world. Awareness weeks and months exist for the same reason. Oct. 15-21 was Invisible Disabilities Awareness week.
What is an invisible disease or disability? Simply put, a medical condition that doesn't necessarily affect your appearance, but significantly affects your body's ability to do normal
daily activities. Having an invisible medical condition (or conditions) comes with many challenges. I've written about invisible conditions and disabilities in the past — what they are, how they are perceived. This time, I'm focusing on how those debilitating conditions get in the way of life's plans and how they make me feel.
When my illness strikes, it happens fast and hard
We've all been there, never knowing what kind of day to expect when you wake up. Will it be a good day, when you can go out and enjoy simple pleasures or a day when your health ultimately takes over, canceling everything? It's hard for me to make plans ahead of time because I never know how I will be feeling that day. This makes concerts, weddings, dates or stopping by a friend's birthday party rather tricky commitments.
Countless times, I've been invited to join some friends or family to spend time together or go out, and I had to cancel at the last moment. I could have been feeling good all day, thinking I was good to go, then moments before leaving my home the unpredictability of my health strikes. I become so sick I can't go or I know I cannot physically participate. I hate the thought of my health controlling my life, but what hurts most of all is feeling that I'm not a reliable wife, daughter, sister or friend because of my invisible conditions and disabilities.
Being open with your friends and family helps
I'm blessed to have some of the world's most understanding family and friends when it comes to my health. Even if I don't go into great detail, my family and friends all have a general idea about what's going on with my health. They know that I have several disabilities that at times get in the way of me being active. Even though they are so understanding, many times I still felt guilty having to cancel plans. The way I saw it, my friends likely went out of their way cleaning their house for company and made dinner plans accordingly for us all.
I feel worse when it's not just me staying behind. It wasn't just my plans I had to cancel, but my husband's as well. He really enjoys hanging out with friends and going out, and sometimes I feel as if I'm holding him back. Of course, he tells me that isn't the case at all. In reality, he is always looking out for my happiness and my health, only ever wanting to make sure that I'm OK. He is my rock and reminds me that not being able to go out or be active is never worth feeling shame or guilt. I'm sure that is the case for so many others who also battle illnesses!
Seeing that I tend to be hard on myself when my health stops me from going out, my friends would come over. Instead of planning to hang out in advance, we started to make plans on short notice. Spur-of-the-moment plans actually can be more fun, and that way I didn't have to worry about having to cancel so often.
Don't push yourself to go out
I know to listen to my body. When you're hurting, that is your brain's way of letting you know that something is wrong. On days when you're having symptoms, like stomach pain or nausea, it's best to stay home and take it easy. Moving around a lot or pushing myself too far never ends well. Trust me when I say that's not the ideal way to go about things and I always wind up regretting it!
Never give up!
There is something that I learned over the years and that is to take the good days and make the most of them. The key is to not let your health get the best of you, which I know is not easy. I've known so many people who have become bitter over time, always focusing on the negatives. The words "I can't" or "I won't" take over their thoughts.
I just don't want to think like that. I may have more disabilities than everyone sees, but I still strive more for "I can" and more importantly "I will." You can still live a full life. Just live within the boundaries your body allows!
***
Note: IBD News Today is strictly a news and information website about the disease. It does not provide medical advice, diagnosis, or treatment. This content is not intended to be a substitute for professional medical advice, diagnosis, or treatment. Always seek the advice of your physician or other qualified health provider with any questions you may have regarding a medical condition. Never disregard professional medical advice or delay in seeking it because of something you have read on this website. The opinions expressed in this column are not those of IBD News Today, or its parent company, BioNews Services, and are intended to spark discussion about issues pertaining to IBD.
We are sorry that this post was not useful for you!
Let us improve this post!
Tell us how we can improve this post?