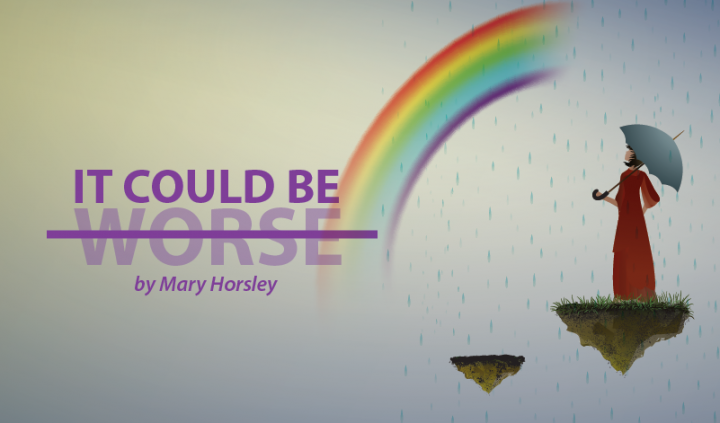 With IBD, sometimes taking time off work or missing social events can be necessary to relax. This is important, as stress flares my Crohn's disease symptoms, which leads to even more stress.
I skipped my column for the past couple weeks because I'm still experiencing pain two weeks after my ganglionectomy, a type of hand surgery. I tried not to worry about missing columns once I contacted my editor, but I feel bad for missing any task, which causes extreme stress. I tried to rush and complete a column last week after my care team removed my stitches, but my hands disagreed.
My pain led to migraines, insomnia, and a Crohn's disease rebellion. I needed a break, I needed sleep, I needed not to stress. Things happen. Breathe.
The surgery mixed badly with my already angry bowels, so my symptoms flared so intensely this past week that I called my gastroenterologist (GI doctor) to order testing.
For some, getting immediate testing isn't so easy. Many employers don't understand that an IBD schedule may not always be "normal," and having the opportunity to work from home is not always an obtainable privilege. So, discussing concerns with your employer could be wise. With insight into your disease, symptoms, and management, employers can have a better understanding of what to expect on bad days. See my past writing about this: "Working with Crohn's Disease and IBD."
You can request accommodations, like having a desk near a restroom or working from home, but you may need a leave of absence if accommodations are limited. Taking time for yourself and knowing when to say no are important for easing stress levels. This disease is unpredictable, and so you have to be proactive and prioritize your health.
I need "recuperating days" after major stressful events, or my body will pay for it later. It is better to cancel plans or reschedule than to overdo it, as I mentioned in my past writing, "Crohn's Disease Health: Unreliability Is a Sure Thing." Even hourly plans can change — you can feel "fine" in one moment and ill in the next.
Whether discussing accommodations with your employer or finding ways to ease your day-to-day schedule, managing your symptoms and knowing when to take time for yourself is vital to Crohn's disease care.
***
Note: IBD News Today is strictly a news and information website about the disease. It does not provide medical advice, diagnosis, or treatment. This content is not intended to be a substitute for professional medical advice, diagnosis, or treatment. Always seek the advice of your physician or another qualified health provider with any questions you may have regarding a medical condition. Never disregard professional medical advice or delay in seeking it because of something you have read on this website. The opinions expressed in this column are not those of IBD News Today, or its parent company, BioNews Services, and are intended to spark discussion about issues pertaining to IBD.